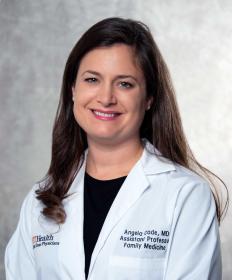 Physician Group:
UT Health East Texas Physicians
Practices At:
Hours:
Monday - Friday
8 a.m. to 5 p.m.
Extended Hours:
Monday - Thursday
5 p.m. to 7 p.m.
Walk-ins Welcome! 
*Age Range: Six months and up
Dr. Angela Cade loves being a family medicine doctor. She especially enjoys the relationships she builds with her patients and their families. Dr. Cade is dedicated to disease prevention through lifestyle changes. Her goal is to help her patients avoid serious long-term health problems by preventing disorders like high blood sugar, blood pressure, and cholesterol. Dr. Cade treats all ages from babies to grandparents at our Lindale Clinic. She and her family are proud to be part of the Lindale community.