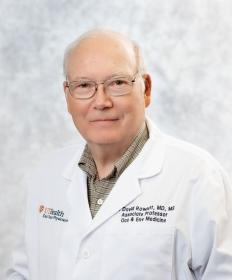 Physician Group:
UT Health East Texas Physicians
Practices At:
Hours:
Monday - Friday
8 a.m. - 4:30 p.m.
C. David Rowlett, MD, is an occupational and environmental medicine physician at UT Health East Texas Physicians at North Campus Tyler. 
Dr. Rowlett provides care for work-related illness and injury, as well as mandated medical surveillance exams required by the Occupational Safety and Health Administration (OSHA) and similar regulatory agencies. Dr. Rowlett also conducts Department of Transportation (DOT) Physical Exams. "The average full-time American worker spends more than 40 percent of his or her waking hours at work, yet rarely is an occupational or environmental cause considered when illness arises."
He has experience as an occupational physician in industry, government, mulitspecialty group practices and academic medicine. Today, he practices in the clinic and is a faculty member at The University of Texas Health Science Center at Tyler.
Board Certifications:
American Board of Preventive Medicine, Board Certification
American Association of Medical Review Officers, Certified MRO
Federal Motor Carrier Safety Administration National Registry of Certified Medical Examiners, Certified Driver Medical Examiner
Education:
Occupational Medicine Residency: The University of Iowa, Iowa City
Master of Science: Preventive Medicine, The University of Iowa, Iowa City
Doctor of Medicine: Texas Tech University, Lubbock
Master of Science: Chemical Engineering, Texas Tech University, Lubbock
Bachelor of Science: Texas Tech University, Lubbock
American College of Occupational and Environmental Medicine, Fellow
Texas Tech School of Medicine, Gold-Headed Cane Award
Texas College of Occupational and Environmental Medicine, Marcus Key Award, Member
Texas Institute of Occupatonal Safety and Health, Award of Excellence
Texas Medical Association, Member
Smith County Medical Association, Member