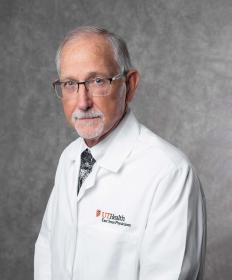 Physician Group:
UT Health East Texas Physicians
John M. Barnett, MD, is a board-certified radiation oncologist at UT Health East Texas Urology Center in Tyler. Dr. Barnett pursued a career in medicine because I wished to help patients with their medical needs. "I treat patients like I would want to be treated with compassionate care and concern."

Dr. Barnett specializes in the use of radiation to treat prostate and bladder cancer in adults. "I began my journey in medicine in family practice and emergency medicine, but saw the need to use those diverse skills in the area of oncology."

Dr. Barnett enjoys ranching, horsemanship and flying antique warplanes.
Board Certifications:
American Board of Radiology, Board Certification
 
Education:
Residency: Radiation Oncology, The University of Alabama Tumor Institute, Birmingham, Ala.
Internship: McClennan County Family Practice, Waco
Residency: Radiation Oncology, The University of Texas Medical Branch in Galveston
Doctor of Medicine: The University of Texas Medical Branch in Galveston
Undergraduate: North Texas State University, Denton
American Medical Association, Member