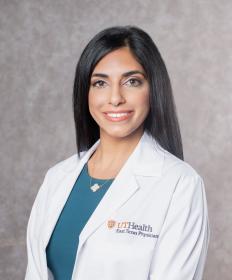 4.3 out of 5
Practices At:
Hours:
Monday - Friday
8 a.m. - 5 p.m.
Leanne Dada, DO, is a board-certified rheumatologist at UT Health East Texas Physicians at North Campus Tyler. Dr. Dada treats adult patients who suffer from musculoskeletal diseases and systemic autoimmune conditions including rheumatoid arthritis, lupus, Sjorgren's syndrome, systemic sclerosis and myopathy. These diseases can affect joints, bones and muscles causing pain, swelling and deformity.
"The nature of the chronic diseases that rheumatologists treat entails a long-term relationship through which decisions about care are constantly being refined to each patient's biology and life circumstance. My aim is to build a unique relationship with patients that fosters trust, confidence and great communication."
Dr. Dada strives to deliver patientcentered care where decisions are made jointly after considering a patient's personal lifestyle and experiences. "I remember that each patient is an individual, a member of a family and a member of a greater community."
Board Certifications:
American Board of Internal Medicine, Board Certified
American Board of Internal Medicine, Rheumatology Subspecialty, Board Certified
Education:
Rheumatology Fellowship: University of Florida, Shands Hospital, Gainesville
Internal Medicine Residency: University of South Florida Largo Medical Center, Largo
Doctor of Osteopathy: Lake Erie College of Osteopathic Medicine, Bradenton, Fla.
Bachelor of Science: Baylor University, Waco