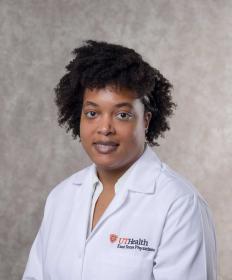 Specialty:
Psychology - Child and Adolescent
Physician Group:
UT Health East Texas Physicians
Trenesha Hill, PhD, is a child and adolescent psychologist at UT Health East Texas Behavioral Health at North Campus Tyler. Dr. Hill acknowledges that navigating the healthcare system can be difficult, particularly for families from disadvantaged backgrounds. "I work to develop mutual trust and respect with my patients and their families to best address their needs."
Dr. Hill got into healthcare to address mental health and educational disparities among low-income children as well as children with developmental disabilities. "My special areas of interest are children with developmental disabilities, particularly autism spectrum disorder (ASD) and children with externalizing behavior problems. My younger brother has developmental disabilities, which led to my interest in working with children with developmental disabilities."
"As a provider, I collaborate with families to deliver evidence-based mental health services to children, adolescents, and their families, with the goal of promoting positive outcomes."
Education:
Postdoctoral Fellowship: Children's Hospital Colorado Anschutz Medical Campus Aurora
Doctor of Philosophy: Psychology Tulane University, New Orleans
Pre-doctoral Internship: May Center School for Autism and Developmental Disabilities Randolph, Mass.
Masters of Science: Psychology Tulane University, New Orleans
Bachelors of Science: Psychology Tulane University, New Orleans
American Psychological Association, Member
International Society for Autism Research, Member