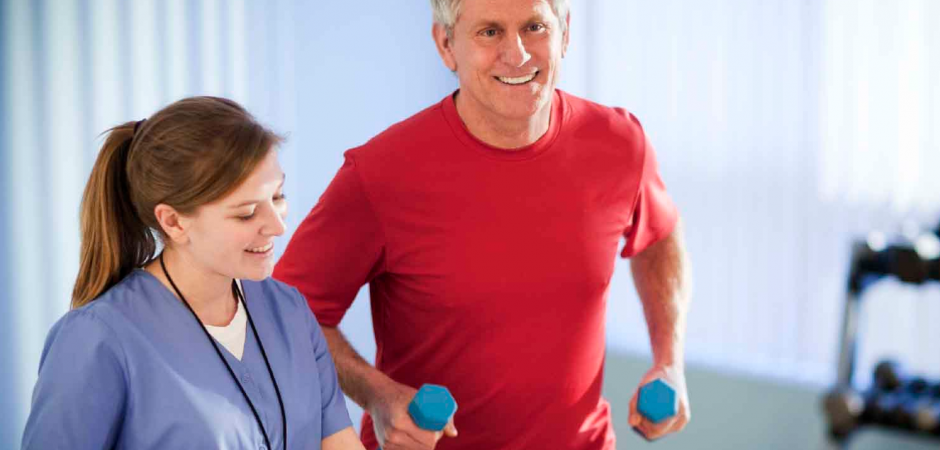 Moving Forward
When faced with mobility or speech problems caused by disease or injury, it's important to keep moving forward. Different forms of therapy are available to help patients overcome physical obstacles and put life back in motion.
Our licensed rehabilitation specialists are experts in adult and adolescent evaluation and treatment. We provide physical, occupational, and speech therapy to help adolescent and adult patients reduce pain, achieve optimal function, and prevent disease. Our commitment to you is providing excellent, individualized patient care to benefit your health needs and improve your quality of life.
To begin rehabilitation services at UT Health North Campus, a referral from your medical provider is required. Appointments are scheduled Monday-Friday, 7:30 a.m. - 4 p.m. For more information, please call 903-877-7293.
Conditions we commonly treat include:
PT = physical therapy, OT = occupational therapy, ST = speech therapy
Neck/back problems (PT)
Leg, foot, hip, and knee pain (PT)
Shoulder, arm, elbow, and wrist pain (PT, OT)
Incontinence (PT, OT)
Strains/sprains (PT, OT, ST if facial)
Joint replacements (PT, OT, ST if facial)
Orthopedic conditions (PT, OT, ST)
Joint/muscle stiffness or weakness (PT, OT, ST)
Difficulty walking (PT)
Balance difficulties and fall risks (PT)
Difficulty with activities of daily living (OT)
Cardiac/pulmonary problems (PT)
Neurological conditions, like Cerebral Vascular Accident, Parkinson's, MS (PT, OT, ST)
Lymphedema (OT)
Cancer pre-habilitation (PT, OT, ST)
Cognitive/language disorders (OT, ST)
Vital Stim therapy for swallowing difficulties (ST)
Dysphagia (ST)
Modified Barium Swallowing Study (MBSS) (ST)
Splinting (OT)
Seating/mobility evaluations (PT, OT)
We're here to help you reach your rehabilitation goals, which may be to:
Improve and reduce decline in mobility
Prevent, decrease, or eliminate pain
Increase strength and endurance
Improve balance to decrease fall risks
Coping strategies for shortness of breath
Improve posture
Stimulate cognitive function
Improve ability to perform activities of daily living independently
Improve ability for safe swallowing
Education to reduce exacerbation of symptoms
Specialty Assessments
Power mobility assessment
Ergonomic assessment