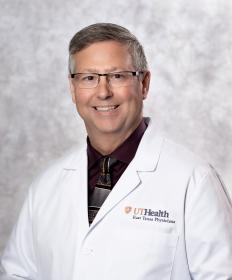 4.0 out of 5
Specialty:
Psychology
Neuropsychology
Physician Group:
UT Health East Texas Physicians
Practices At:
Hours:
Monday - Friday
8 a.m. - 5 p.m.
Andrew L. Schmitt, Ph.D., is a neuropsychologist, who practices at North Campus Tyler in the Louise H. and Joseph Z. Ornelas Center for Healthy Aging. "I have a passion for seeing people lead productive and happy lives. I hope the work that I do can help patients and their families better cope with illness and improve the quality of their lives."
Although Dr. Schmitt sees patients from various backgrounds, his greatest area of expertise and research is in the diagnosis and study of dementia, particularly Alzheimer's disease. He also has substantial experience with the assessment of traumatic brain injury, stroke, ADHD and depression.
He earned his bachelor's degree in toxicology from Clarkson University in Potsdam, New York, and his master's degree in clinical psychology from the University of Texas at Tyler. He also earned his doctorate in clinical psychology from the Southwestern Graduate School of Biomedical Sciences in Dallas.
His personal interests include playing and teaching competitive chess, barbecuing, cooking and spending time with his family and friends.
Blogs Written by Dr. Schmitt
Finding Meaning and Purpose During COVID-19
Alzheimer's Care at UT Health East Texas
Education:
Doctor of Philosophy: Southwestern Graduate School of Biomedical Sciences, Dallas
Master of Science: Clinical Psychology, University of Texas at Tyler, Tyler
Bachelor of Science: Toxicology, Clarkson University, Potsdam, New York
National Academy of Neuropsychology, Member
East Texas Psychological Association, Member
Coalition of Clinical Practitioners in Neuropsychology, Member
White Fellowship for Teaching Excellence, Award
Outstanding Graduate Research Mentor, Department of Psychology, Award