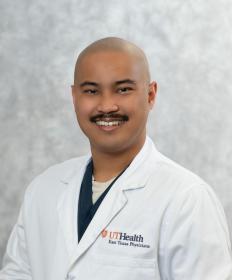 Physician Group:
UT Health East Texas Physicians-Emergency Services
Bryan Juan, MD, DABFM, is an emergency medicine physician, who practices at the UT Health North Campus Tyler. "I realize that being a physician also encompasses the role of being a teacher and counselor. I want to be someone patients can turn to when it comes to one of the most important aspects of their lives."
The desire to become a physician began in his childhood. "I got into healthcare by following the footsteps of my father. I saw how he positively impacted his patients and how he helped them live healthy lives."
Dr. Juan earned two bachelor's degrees in chemistry and biology from Southern Methodist University in Dallas and his doctor of medicine from Texas Tech University Health Sciences Center School of Medicine in Lubbock. In addition, he completed his family medicine residency at The University of Texas Health Science Center at Tyler.
His personal interests include traveling, fishing and spending time with his wife, their son and his dog, Riley.
Board Certifications:
American Board of Family Medicine, Board Certification
Education:
Doctor of Medicine: Texas Tech University Health Sciences Center School of Medicine, Lubbock
Bachelor of Science Degree: Biology, Southern Methodist University, Dallas
Bachelor of Arts Degree: Chemistry, Southern Methodist University, Dallas
EMR Leadership, Committee Member
American Academy of Family Physicians, Physician Member
American Medical Association, Physician Member
Texas Medical Association, Physician Member