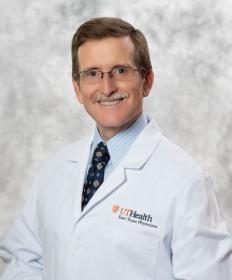 4.3 out of 5
Specialty:
Pulmonology (Lung Disease)
Physician Group:
UT Health East Texas Physicians
Dale Tallmadge is an acute care nurse practitioner who cares for patients in the Ralph and Mary Prince Pulmonary Center and Cystic Fibrosis Clinic. He has over 30 years of experience in the medical field working in various fields, including neurosurgery/neuro stroke, pain medicine, cardiothoracic and vascular surgery, and currently in pulmonary/critical care. His special interest in medicine includes smoking cessation and integrating healthy habits with treatment. The best part of Dale's job is that he gets to interact with patients while providing compassionate care and comfort in their time of need.