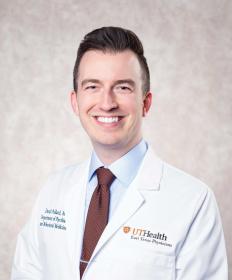 David Pollard, MD, is a psychiatrist at the UT Health East Texas Physicians North Campus Tyler. He believes that everyone has value, and that people deserve to have the care of someone who respectfully and thoughtfully consults them on evidence-based approaches that make sense in the context of their lives. Dr. Pollard got into healthcare to help patients succeed against conditions that cut us off from loving and feeling loved, from hope or from fulfillment. He hopes that the study of medicine will open more doors to these kinds of successes. He became committed to psychiatry while he was a university student crisis helpline volunteer. This experience taught him the monumental value of listening and treating someone like they are worthwhile, as well as the great need for psychiatrists.
Dr. Pollard sees adolescents and adults, and has a special interest in trauma-related disorders, disorders of mood, addiction, anxiety, and psychosis. ""Those who see me should know that I believe activity, food, sleep, and talk therapy are treatments in much the same way that traditional prescriptions can be- if it affects the body, it affects the mind," he said. "I seek balanced treatment approaches and only the minimum necessary use of medication to achieve wellness and safety."
In his spare time, Dr. Pollard is learning new recipes or how to do a new project around the house, reading fiction, mental health research or playing adventure and strategy video games. He also has a goal of visiting as many national and Texas state parks possible.
Education:
Residency: Psychiatry, The University of Texas at Tyler Health Science Center
Doctor of Medicine: Texas A&M University College of Medicine, Bryan