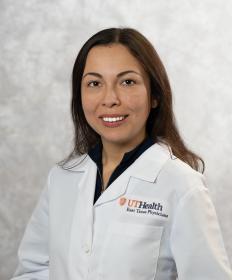 Physician Group:
UT Health East Texas Physicians
Lorena Santoro, DO, is a family medicine physician, who practices at UT Health North Campus Tyler. "I entered healthcare because it is an ever-changing field, and there are always new things to learn. I get to combine my favorite subject, science, with taking care of human beings."
Dr. Santoro chose to focus on family medicine because of the diversity this field has to offer. "In medical school, I enjoyed every rotation from rheumatology to neurology. In family medicine, I am exposed to at least a little bit of every specialty. Family medicine allows me the opportunity to practice preventative medicine to keep people as healthy as they can be."
She earned her bachelor's degree in microbiology from The University of Texas at Austin and her doctor of osteopathic medicine from the University of North Texas Health Science Center. She also completed her family medicine residency at The University of Texas Health Science Center at Tyler.
Dr. Santoro is fluent in both English and Spanish. Her personal interests include cooking and trying new recipes.
Education:
Residency: Family Medicine, The University of Texas Health Science Center, Tyler
Doctor of Osteopathic Medicine: University of North Texas Health Science Center, Fort Worth
Bachelor of Science: Microbiology, The University of Texas at Austin, Austin
Academic Excellence, Award
Dean's List, Honor
American Board of Family Medicine, Diplomate