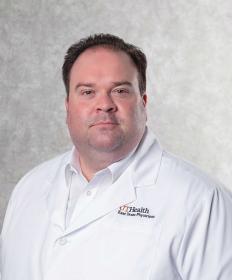 5.0 out of 5
Physician Group:
UT Health East Texas Physicians
Matthew Boehme, DO, is an internal medicine physician, who sees adult patients at UT Health East Texas Physicians in Jacksonville. Dr. Boehme believes the best healthcare requires a partnership between patient and physician. "I am a partner in your healthcare," he said. "I like to get to know my patients as individuals and provide advice using the most up-to-date medical information available. I like to have discussions about how the care we offer fits with the life you want to live."
The combination of the science of medicine and the ability to help othersis what led Dr. Boehme to become a physician. "Nothing else drove me like the combination of directly helping people and learning about the natural world that medicine provides. It's endlessly fascinating, and you never know everything."
In his free time, Dr. Boehme enjoys hiking, fishing, football and disconnecting from life's electronic distractions.
Education:
Internal medicine residency: Medical City, Fort Worth
Doctor of Osteopathic Medicine: Des Moines University, College of Osteopathic Medicine, Des Moines, Iowa
Pre-Med Courses: University of Central Oklahoma, Edmond
Bachelor of Arts: Journalism, University of Oklahoma, Norman
American Osteopathic Association, Member
American Medical Association, Member