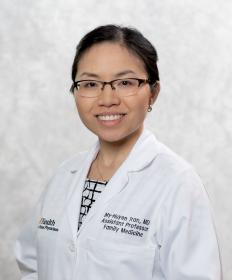 4.3 out of 5
Physician Group:
UT Health East Texas Physicians
My-Huyen Mary Tran, MD, is a board-certified family medicine physician who sees patients at UT Health East Texas Physicians North Campus Tyler. "My goal is to work with my patients to help them achieve optimal health through patient education, promoting healthy lifestyle and disease prevention."
Dr. Tran is specifically interested in chronic medical management, obesity medicine, menopause, academic medicine, health literacy and promoting smoking cessation. "We can work together to improve your overall health. Focus on the small accomplishments to achieve your long-term health goals."
"Family medicine gives me the opportunity to continue to learn on a daily basis across different fields of medicine, without boundaries, and still allows me to focus on areas of interest to better serve my patients."
At Tulane University in New Orleans, Dr. Tran earned a bachelor's degree in music, a bachelor's degree in cellular and molecular biology and a master's degree in neuroscience. She earned her medical degree from Louisiana State University Health Science Center in Shreveport, Louisiana, and completed her family medicine residency at The University of Texas Health Science Center at Tyler.
She is fluent in English and Vietnamese. Her personal interests include spending time with her family, visiting different zoos or aquariums during their travels, playing piano and attending musical performances.
Blogs Written by Dr. Tran
Board Certifications:
American Board of Family Medicine, Board Certification
Education:
Family Medicine Internship & Residency: The University of Texas Health Science Center at Tyler
Doctor of Medicine: Louisiana State University Health Science Center, Shreveport, Louisiana
Master of Science: Neuroscience, Tulane University, New Orleans
Bachelor of Science: Cellular & Molecular Biology, Tulane University, New Orleans
Bachelor of Arts: Music, Tulane University, New Orleans
American Academy of Family Practice, Member
Smith County Medical Society, Member
American Medical Association, Member
North American Menopause Society, Member
Obesity Medical Association, Member