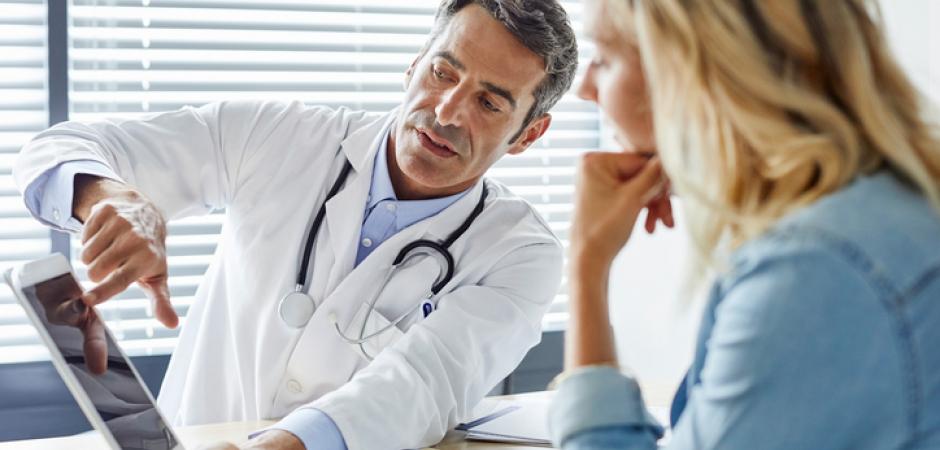 Schedule Appointments Online
It's quick and easy to schedule an appointment with a doctor.
Overview
From common illnesses to rare and complex conditions, internal medicine covers a wide range of adult health conditions. Internal medicine physicians — also called internists — are trained in the prevention, diagnosis and treatment of adult diseases. When it comes to caring for patients, internists treat the whole body to improve overall health and wellness.
Comprehensive Care
We are your patient-centered medical home, where you and your healthcare team work together to manage your entire health journey using evidence-based care, patient and family education, and self-care management. Our skilled internists diagnose and treat chronic illnesses — like high blood pressure, high cholesterol, or diabetes — that may occur at the same time. From basic health concerns to annual testing and everything in between, our team helps keep our patients healthy. To make an appointment, call 903-877-7911.
Conditions we commonly treat include:
Acid reflux and GERD
Acne
AIDS and HIV
Alcohol and substance abuse
Allergies
Alzheimer's and other dementias
Anemia
Angina
Anxiety
Arthritis
Attention deficit hyperactivity disorder (ADHD)
Asthma
Chronic obstructive pulmonary disease (COPD)
Celiac disease
Colds
Congestive heart failure
Cough
Crohn's disease
Depression
Diabetes
Diabetic neuropathy
Eating disorders
Eczema
Endometriosis
Enlarged prostate
Erectile dysfunction
Fatigue
Fibromyalgia
Flu
Gout
Headaches
Heartburn
Heart disease
Hepatitis
High blood pressure
High cholesterol
Immunizations and vaccinations
Incontinence
Irritable bowel syndrome
Menopause and perimenopause
Metabolic syndrome
Osteoporosis
Overactive bladder
Parkinson's disease
Pneumonia
Psoriasis
Respiratory infections
Shingles
Sinusitis
Stress
Stroke
Ulcerative colitis
Ulcers
Urinary tract infections (UTI)
Weight management
Geriatrics
Aging Well Together
With age comes a new approach to maintaining health. Serious diseases or chronic medical conditions can significantly affect older adults' quality of life and place demands on family and caregivers. At UT Health North Campus, we provide care that is patient-centered. Our team works together to be your partner in health whenever you need care.
Our geriatricians are doctors with specialized expertise in caring for the unique medical needs of older people by working to maintain their physical and mental well-being. We teach our aging patients self-management skills with the goal of preventing diseases and diagnosing diseases at the early stages. As part of a patient-centered medical home, we help patients set and achieve their health goals. Call 903-877-7911 to make an appointment for you or someone you care about.
Our team includes experts from within the Center for Healthy Aging working with experts from our Center for Diabetes Care, internal medicine and our Breast Center. With the active involvement of our patients and their families, we combine our skills and all available community resources to provide our patients with the best healthcare and quality of life possible.
Our nursing home team consists of physicians and nurse practitioners who partner with several nursing homes in our region to help ensure that the highest standards of medical care are met.
Conditions we commonly treat include:
Memory loss, dementia, and Alzheimer's disease
Falls, injuries, or balance problems
Osteoporosis
Diabetes
Elevated blood pressure and heart disease
Hypertension
Depression
Stroke
Arthritis
Nutrition
Pressure ulcers
Bladder incontinence and disorders
Sleep disorders
Driving safety
End-of-life issues and hospice care
Travel Medicine
When traveling internationally, it's possible to come home with more than memories of your experiences abroad. When you need immunizations, boosters, or vaccines, UT Health East Texas is here to help.
Looking Out For Your Health
Seeing a physician who specializes in travel medicine before you leave can help prevent most travel-related diseases and illnesses. That's where our physicians come in. With their expertise, your international trip is less likely to include sickness. If you get sick when you return, our physicians have the knowledge to properly diagnose and effectively treat your illness. Call 903-877-7930 to make an appointment.
Our Travel Medicine Services: Preparing for Your Trip
Physical examination before traveling
Basic immunizations, booster shots, and specialized vaccines
Advice on how to stay healthy while traveling, plus preventive care
Up-to-date health information about travel destinations
A physician statement regarding any current medical conditions
When You Return
Diagnosis and treatment of common and uncommon diseases rarely seen by most primary care physicians