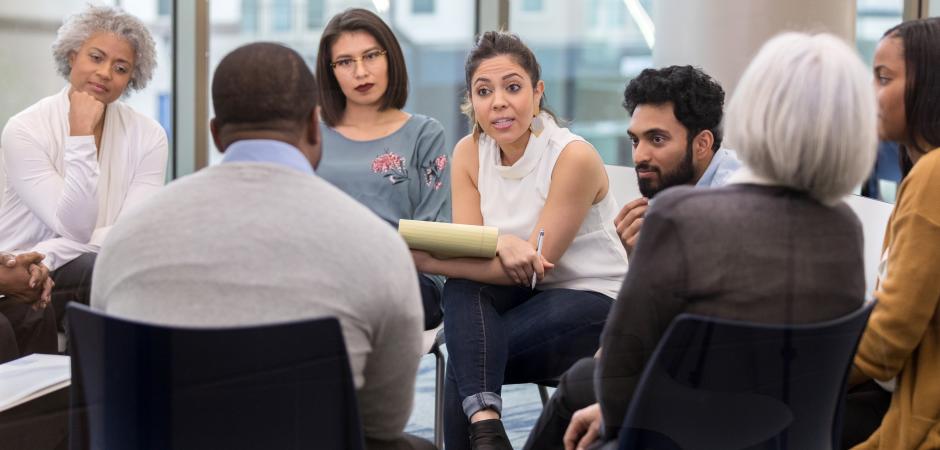 Help with psychological and emotional issues
Adults who have significant difficulty handling their day-to-day lives because of issues such as depression, anxiety, panic attacks, mood swings and grief are candidates for the UT Health East Texas Behavioral Health Intensive Outpatient Program (IOP). We offer counseling by licensed therapists, medication management provided by board-certified psychiatrist or advanced nurse practitioner and the opportunity to work through emotional and psychological issues without the need for inpatient hospital admission.
The IOP allows patients the opportunity to live at home, continue to work and be involved in family and community activities, while receiving in-depth treatment. This enables patients to begin implementing the recovery skills they learn and gives them the chance to process their experiences in a safe and supportive group environment.
Our IOP also provides a specialized track for those that are struggling with addiction and substance abuse. We utilize evidenced-based approaches to help build healthy coping skills to reduce harm and prevent relapse. Our board-certified practitioners are available to provide medication assisted treatment to help reduce cravings and relapse.
No physician order is required, although we accept recommendations from physicians, mental health providers, clergy, company employee assistance programs and family and friends. We offer free assessments (appointments required) to assist with self-referrals.
Treatment is available five days a week. We offer the flexibility of attending either our morning session or afternoon session. The provider routinely meets with patients for evaluation and monitoring of medications. This is a group therapy program and does not include a component for medication management only. This program is a step down from our inpatient stabilization program.
Call 903-877-5560 to schedule a free assessment.
Help achieving goals
Our program can help participants achieve these goals:
Reduce fears, anxiety disorders and depression.

Manage anger, guilt and shame.

Curb destructive impulses and behaviors.

Regulate emotions, tolerate distress and express thoughts and feelings.

Practice interpersonal effectiveness and communication skills.

Build structure and set limits in daily life and explore personal values and beliefs.

Replace negative self-talk with positive affirmations.

Receive information about medications and their proper use.

Develop more effective coping tools to deal with everyday challenges.
Common mental health diagnoses
Some common diagnoses addressed in our outpatient program:
Depression

Anxiety

Mood disorders

Bipolar disorders

Schizophrenia

Addiction

Post-traumatic stress disorder (PTSD)
Anyone who has experienced serious issues due to emotional problems, such as missing work, relationship problems, decreased productivity, isolating behavior, problems in social situations, poor self-care or cognitive impairment will benefit from the program. If you experience any of these issues you can call 903-877-5560 for information or to make an appointment for an assessment.
We provide
Free assessment

Medication consultation and evaluation

Individual counseling

Group counseling

Medication assisted treatment (MAT)

Ambulatory detox

Referrals for follow-up care
Intensive outpatient treatment philosophy
Research shows that individuals with severe symptoms of mood disorder recover to an effective level of functioning sooner in a group setting. Our groups are predominantly a combination of dialectical and cognitive behavioral therapies in which patients meet in an educational environment to develop more effective coping skills to manage major setbacks and the problems of everyday life. Our doctor leads the treatment team in an ongoing assessment of a patient's situation and progress. He or she also manages any psychiatric medications if applicable.
How do I know if I need this level of treatment?
If you can answer "yes" to any one or more of the following questions, and if the issue or issues are causing significant problems in any area of your life – such as personal, work, social, interpersonal, financial or health – then the level of care offered by the outpatient day treatment program could be needed.
Have you been late to work or absent from work due to feeling stressed, anxious or depressed?

Has your productivity at work or home decreased because of emotional problems?

Have you experienced strained interpersonal relationships due to increased irritability or anger?

Are you isolating and avoiding social situations?

Do you have difficulty dealing with crowds or other social situations, such as church or shopping?

Do you find yourself in constant debt but yearn to be financially stable?

Do you want to be independent but find yourself dependent on someone to an unhealthy degree?

Do you have many projects and responsibilities but tend to procrastinate?