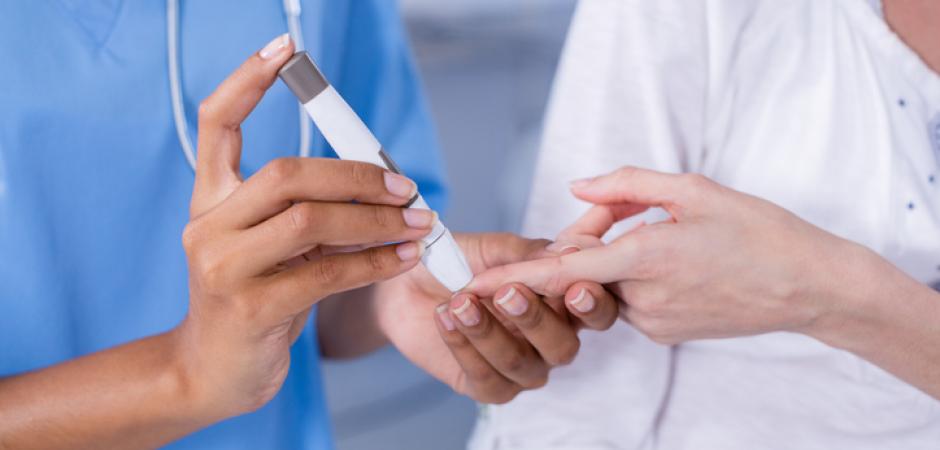 When the body doesn't use insulin properly, blood glucose levels may become too high. This may lead to diabetes, a disease that affects people of all ages. In fact, 25.8 million adults and children have been diagnosed with diabetes in America.
The complications associated with diabetes are very serious and can include heart disease, stroke, high blood pressure, blindness and amputation. The good news is that diabetes can be managed when diagnosed early and treated properly. Make an appointment with UT Health North Campus Tylerdiabetes experts:
Call (903) 877-7911 or Sign Up Online
Managing Diabetes
Our physicians and medical staff focus on diagnosing and treating diabetes, as well as providing resources for education and lifestyle changes. We are committed to giving patients the tools needed to effectively manage diabetes and avoid severe complications.
Our Center for Diabetes Care offers a free diabetes education program four times every year. The sessions cover topics such as meal planning, glucose monitoring, exercise, medications, insulin administration and foot care. We teach patients how to administer insulin and how to manage insulin pumps. Each Empower Diabetes session is held in the Hudnall Auditorium.
Additional services also include individual visits with a physician, physician assistant, dietitian, and diabetes educator. 
2023 Empower Class Schedule
Classes are free. To register, call (903) 877-8978
Date
Time
Class
Instructor
May 2nd
8:30-9:30am
What is Diabetes?
Teri Huse, RN, CDCES
9:30-10:30 am
Hypo/Hyper & Sick Day
Donna Walker, RN
10:30-11:30am
Medications/Insulin
Takova D. Wallace-Gay, PharmD, BCACP
Rachel A. Bratteli PharmD, BCACP
11:30-12:00 pm
Monitoring
Donna Walker, RN
12:00-12:30pm
Stress/Coping
Teri Huse, RN, CDCES
May 9th
8:30-9:00am
Foot Care
Dr. Andreone, DPM., Diplomat ABPM
9:00-10:00 am
Exercise
Audrey Hall, RD, CDCES
10:00-11:00am
Meal Planning
Audrey Hall, RD, CDCES
11:00-11:30 am
Goal Setting
Audrey Hall, RD, CDCES
October 3rd
8:30-9:30am
What is Diabetes?
Teri Huse, RN, CDCES
9:30-10:30 am
Hypo/Hyper & Sick Day
Donna Walker, RN
10:30-11:30am
Medications/Insulin
Takova D. Wallace-Gay, PharmD, BCACP
Rachel A. Bratteli PharmD, BCACP
11:30-12:00 pm
Monitoring
Donna Walker, RN
12:00-12:30pm
Stress/Coping
Teri Huse, RN, CDCES
October 10th
8:30-9:00am
Foot Care
Dr. Andreone, DPM., Diplomat ABPM
9:00-10:00 am
Exercise
Audrey Hall, RD, CDCES
10:00-11:00am
Meal Planning
Audrey Hall, RD, CDCES
11:00-11:30 am
Goal Setting
Audrey Hall, RD, CDCES
---
2023 Free Diabetes Education Schedule
Date
Start Time
Class
February 21st
9:00am
A brief introduction to diabetes
April 18th
9:00am
A brief introduction to diabetes
June 20th
9:00am
A brief introduction to diabetes
August 22nd
9:00am
A brief introduction to diabetes
November 14th
9:00am
A brief introduction to diabetes