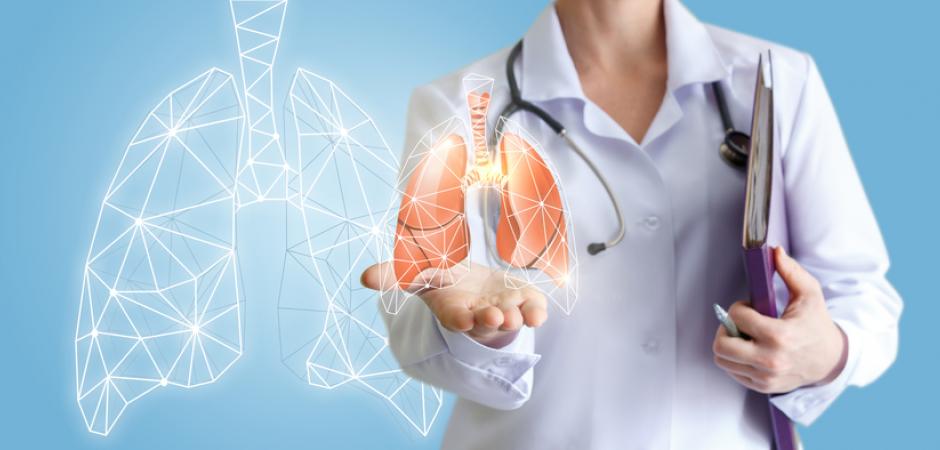 State-of-the-art technology, the newest treatments and techniques and clinical research are at work here every day to help extend and improve the quality of life for patients.
Diagnosing and Treating Lung Diseases
From more common lung diseases like pneumonia, asthma and chronic obstructive pulmonary disease (COPD) to rare conditions like Alpha 1-antitrypsin deficiency and sarcoidosis — patients are in excellent hands here. UT Health is home to the largest team of physicians in Northeast Texas dedicated to diagnosing and treating lung diseases.
To make an appointment, call 903-877-7916.
Conditions we commonly treat include:
Lung diseases
Abnormal chest x-rays
Alpha-1 antitrypsin deficiency
Asthma
Bronchiectasis
Cancers of the chest (lung, chest wall, and cavity)
Chronic bronchitis
Chronic cough
Chronic Obstructive Pulmonary Disease (COPD)
Chronic respiratory failure
Cystic fibrosis
Emphysema
Occupational lung disease
Pneumonia
Pulmonary embolism
Pulmonary fibrosis
Sarcoidosis
Pulmonary function tests at UT Health North Campus Tyler
How much air can your lungs hold? How quickly can you move air in and out? How well can your lungs take in oxygen and remove carbon dioxide from your blood? Pulmonary function tests provide answers to these questions. They allow physicians to diagnose the existence and severity of lung diseases and also indicate how well lung treatments may be working. Among the examinations offered at UT Health North Campus Tyler on an outpatient basis are:
Cardiopulmonary exercise tests – check heart and lung capacity during monitored exercise and are helpful in evaluating the causes of shortness of breath or decreased exercise tolerance.
Compliance tests – diagnose a variety of lung conditions by checking the stiffness or elasticity of the lungs with the aid of a balloon catheter.
Fractional exhaled nitric oxide (FeNO) – assists in the diagnosis and management of a variety of lung diseases, especially allergic asthma. Nitric oxide produced in the breathing passages is a marker of allergic inflammation.
Gas exchange tests (DLCO) – measure how much oxygen passes from the lungs to the blood, which is important in diagnosing many lung diseases.
Inspiratory and expiratory muscle pressures (PI and PE max) – evaluate possible neuromuscular disease by gauging the pressures generated by the respiratory muscles.
Lung volume measurements – detect restrictive lung diseases that prohibit complete inhalation of air. Restrictive lung diseases may be caused by inflammation or scarring of the lung tissue or by abnormalities of the muscles or skeleton of the chest wall.
Maximal voluntary ventilation (MVV) – measures the amount of air that can be inhaled and exhaled in one minute to assess the overall function of the respiratory system.
Methacholine challenge tests – require inhalation of a mist solution of the drug methacholine, which causes twitching in the airways of people who have asthma or asthma-like conditions. Changes that may occur in the lungs are monitored during the test and are reversed with albuterol, a drug normally used to treat asthma.
Oxygen titration tests – determine if a patient using oxygen at home is receiving the proper levels of oxygen and if continued oxygen therapy is needed.
Spirometry – diagnoses obstructive lung diseases that cause resistance to exhaling, such as asthma and chronic obstructive pulmonary disease (COPD). Spirometry is one of the most common pulmonary function tests.
Arterial blood gas analysis
Echocardiography for assessment of Pulmonary Hypertension
Exercise challenge for airway reactivity (similar to Methacholine Challenge but treadmill is used instead of chemical)
Bronchoscopy
6 Minute Walk testing for oxygen qualification
Same-day testing is available for UT Health North Campus Tyler patients.